<![if !vml]>

<![endif]><![if !vml]>

<![endif]>
Samuel Flores
<![if !vml]>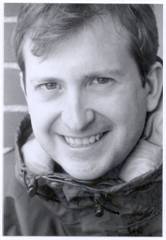 <![endif]>
Research Interests:
Protein flexibility, flexible enzyme docking, drug discovery, structure based drug design 
Publications (download):
Model Study of Coherent-Control of the Femtosecond Primary Event of Vision, by Samuel C. Flores and Victor S. Batista. J. Phys. Chem. B 108, 6745, 2004.  
The Database of Macromolecular Motions: new features added at the decade mark. S Flores, N Echols, D Milburn, B Hespenheide, K Keating, J Lu, S Wells, EZ Yu, M Thorpe, M Gerstein (2006) Nucleic Acids Res 34: D296-301.
Dissecting the mechanism of Epac activation by hydrogen/deuterium exchange FT-IR and structural modeling, by Shaoning Yu, Fenghui Fan, Samuel C. Flores, Fang Mei, and Xiaodong Cheng (2006) Biochemistry 45,15318-15326  
FlexOracle: predicting flexible hinges by identification of stable domains, by Samuel Flores and Mark Gerstein (2007) BMC Bioinformatics 8: 215.  
Hinge Atlas: relating sequence features to sites of structural flexibility, by S. Flores, L. J. Lu, K. Keating, E.Z. Yu, N. Carriero, L. Kuhn, and M. Gerstein, BMC Bioinformatics 8: 167.  
HingeMaster: Normal mode hinge prediction approach and integration of complementary predictors, by S. Flores, K. Keating, J. Painter, E. Merritt, L. Kuhn, and Mark Gerstein, accepted, PROTEINS
StoneHinge: A Hinge Prediction Algorithm Using Rigidity Theory, by Keating, K., Flores, S., Kuhn, L. A. & Gerstein, M. (2006). under review
Conformation Explorer: solving the problem of induced fit, by Samuel Flores, Robert Bjornson, and Mark Gerstein, in preparation
Popular press:
Molecular Motions, by Samuel Flores and Mark Gerstein, The Pharma Frontier,2005 (http://molmovdb.org/help/PharmaForecast.pdf)
Contact Info:
email: samuel.flores _at_ aya.yale.edu
Resume:
http://molmovdb.org/sam/resume
Document directories:
http://homes.gersteinlab.org/people/sam/Documents
Other Links:
http://molmovdb.org/sam/links.htm